Services
The Service We Provide
Once upon a time, families lived in close proximity and loved ones were always available to help in times of illness, injury or aging.
Times have changed and our families have spread out across the country and caring for each other has become more difficult. As we get older we all start to wonder who will help us when we are sick or injured.
You can always depend on American Nursing Resources to bridge the gap. We can have someone at your home to assist you in most cases in as little as 2 hours.
One of our Registered Nurses will meet with you to determine the level of care needed and to customize a treatment plan that will best meet your needs. We work with you to ensure that no one ever feels alone and that speedy recoveries are possible.
While it is our job to screen all caregivers, the decision as to who will care for you or your family member is always yours to make. You choose the services and schedules to meet your individual needs.
ANR Offers The Following Assistance: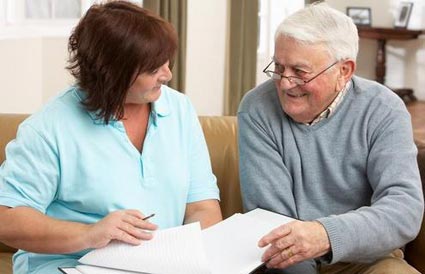 NURSES AIDES (CNA/HHA): Personal care: bathing, dressing, feeding, toileting, transferring and other activities of daily living. Other services include: meal preparation, light housekeeping, escorting the client to appointments, shopping and errands.
NURSES (RN/LPN): Provides all licensed care ordered by your Doctor, maintains the medical plan of care, dispense medication, provide wound care and other skilled care needs.
CASE MANAGER (RN): Includes medical evaluations and assessments.
Paperwork - No Worries
We will complete all the paperwork for you so there is nothing for you to file or fill out for your insurance company.
Our Nurses are always available to answer your questions. We are available 24/7 including holidays and weekends.